(주)우주특수산업

Woojoo Special Industy Co., Ltd.

회사소개
회사소개
Since its creation, Woojoo Special Industry has been a forerunner in the production of automotive interior parts.
Our flagship products include car sunvisor, UV hot melt label, hot stamping products, injection, and woven products.
Since the company was created in 2013, we have achieved growth each year including certification for SQ mark
through our ceaseless initiative and passion. Looking ahead, we have included Zero Defects in our foremost operational guidelines. And we are working on stable and upgraded products to realize customer gratification through acquiring barcode system andautomation system.
Through such efforts and improvements, we continue to do our best to turn the name of Woojoo Special Industry into a globally trusted brand.
업태 및 제품구분
업태 및 제품구분
업태
승용차
관련차종
완성차
제품구분
제조
기본정보
기본정보
설립년도

2013

종업원수

80

R&D 직원수

3
전년도 매출액(원)

₩ 10,000,000,000

전년도 수출액(US$)

US$ 0

특허 및 인증서
해외지점

해외 생산공장 :
해외 사무소 :

주요고객비중 국내 ( 100% )

HYUNDAI/KIA

주요고객비중 해외 ( % )
제품세부정보
제품세부정보
UV LABEL
The product is generally used as a temporary or
permanent tool for delivering to users special
information such as user instructions and
precautions.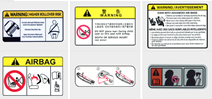 Injection and Weaving Lavel
The process is about making small injected or woven products, which are used where a lavel cannot deliver a mark or text, Our products are ISOFIX airbag label(woven), and lower anchors and tethers for children(injection), and they can be
supplied in various types with different sizes,
texture, and colors.