(주)두손인터내셔널

DUSON INTERNATIONAL CO.,LTD

회사소개
회사소개
Korean car maker, Japanese car maker, etc. since about 10 years ago.
Through the first global cooperative makers, we are responsible for a significant portion of the dk supply chain plastic injection molding network.
For 20 years or so, we have been producing mass-production molds for Toyota Motor´s press parts partners.
Stainless etching corrosion technology is recognized as a top technology by global car makers.
We boast the world´s best low-cost gear supply in reverse-engineering product development.
업태 및 제품구분
업태 및 제품구분
업태
유통
관련차종
승용차, 상용차, 중장비, 미래차(전기/수소/자율주행등), 이모빌리티
제품구분
타이어
기본정보
기본정보
설립년도

2010

종업원수

6

R&D 직원수

2
전년도 매출액(원)

₩ 1,000,000,000

전년도 수출액(US$)

US$ 890,416,000

특허 및 인증서

ISO/TS 16949, ISO 14001
해외지점

해외 생산공장 :
해외 사무소 : Japan(Nagoya)

주요고객비중 국내 ( 0% )

0

주요고객비중 해외 ( 100% )

TOYOTA,HONDA,SUZUKI
제품세부정보
제품세부정보
Prototype For Large Plastic Parts
In the automotive plastic injection molding prototype development sector, which focuses on large parts such as bumper, grille, lining, etc., the shortest manufacturing period of 30 days is achieved based on 1600 to 3000 ton injection molding facilities.

Stainless Precision Etching Parts
In order to enhance the internal components of a car,
It is expanded to doorstep, doorscarf, speakergrill, etc.
In Korea, Hyundai Motor, Kia Motors, from light cars to luxury sedans.
It has been applied actively for over 10 years.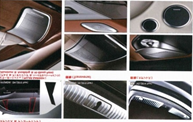 Sheet Metal Press Mold
Based on Trials Mecca Press 400 to 2500 tons of press facilities
DML production method, such as plate transfer, process, and tensum, centering on high-ten steel
Cold press molds can be handled with the shortest delivery in the world.
In addition, hot press mold production can actively respond to any form and size.