(주)반석인더스트리즈

Bansuk Industres, Inc.

회사소개
회사소개
Founded in 1993 in Busan Korea, Bansuk is an OEM exporting company that produces rubber products for various industries, especially for global market.
In order to enhance the competitiveness of the global market, we entered Ho Chi Minh, Vietnam in 2009 and have been serving our valued customers. We have grown with global customers through stable 4M (MATERIAL,MAN, MACHINE, METHOD) management ,and this makes us to maintain same quality at both factories in Korea and Vietnam.
Combining Korean advanced technology and Vietnamese abundant labor force, we proudly take on the responsibility as a leader in the global market.
업태 및 제품구분
업태 및 제품구분
업태
제조
관련차종
승용차, 상용차
제품구분
완성차
기본정보
기본정보
설립년도

1993

종업원수

120

R&D 직원수

6
전년도 매출액(원)

₩ 6,200,000,000

전년도 수출액(US$)

US$ 6,000,000,000

특허 및 인증서

ISO 9001 / ISO 14001
해외지점

해외 생산공장 : Korea & Vietnam
해외 사무소 :

주요고객비중 국내 ( 10% )

0

주요고객비중 해외 ( 90% )

Audi, Trelleborg, Eriks
제품세부정보
제품세부정보
Air Guider Intake Rubber Bushing
to intake outdoor cool air into the engine room, and finally increase the engine efficiency using this parts.

Roof Rail Rubber Gaskets
to protect the roof surface assembling roof rail on the roof of the vehicles, this gasket prevent any damage that can be occurred in assembling process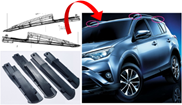 Rubber Bellows (Seat Fan Gaskets)
modern vehicles requires high optional units in the car. One of these is fan air blower located in the passenger seats that transfer cool and warm air to the cabin. Fan gaskets is using for the sealing purpose in the fan blower units.