회사소개
회사소개
Vision Digitech Co., Ltd.was established in 1994 in Daegu, South Korea.
We develop and manufacture low frequency antennas and cables, key parts of automobile smart key system, supplying mainly to 'Ssangyong Motors' in Korea. We also produce main wiring harnesses for Daedong Industrial, a major agricultural machinery company.
We can develop any product of your need. Our products can be used in all kinds of automobile, special cars as well as personal mobility.
업태 및 제품구분
업태 및 제품구분
업태
제조, 유통
관련차종
승용차, 미래차(전기/수소/자율주행등), 기타
제품구분
완성차, 타이어
기본정보
기본정보
설립년도

1994

종업원수

53

R&D 직원수

5
전년도 매출액(원)

₩ 8,500,000,000

전년도 수출액(US$)

US$ 0

특허 및 인증서

ISO/TS 16949
해외지점

해외 생산공장 :
해외 사무소 :

주요고객비중 국내 ( 100% )

Korea Kolon glotech(ssangyong)

주요고객비중 해외 ( % )
제품세부정보
제품세부정보
Antennas for Automotives
This is one of the key components of a smart system. It receives a signal from the SmartKey and transmits it to the controller when opening or closing the vehicle door. This can be done with near-distance communication and wireless recognition technology.
- Magnetic coil winding Type.
- Using frequency : 125.0 or 134.2KHz
- Resistant to damage by enlarging the fixed space.
- Excellent radiation efficiency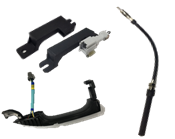 Wiring Harness(HV/LV)
This is a wire that delivers energy throughout the vehicle, just as a blood vessel do in a person. Wire must withstand vibration of running cars and supply stable power. Moreover, eco-friendly automotive wire must withstand high voltages over 300v. We guarantee this quality and make sure our products meet your needs. We ensure you that our product will bring you superior quality.