(주)성림티앤티

SUNG RHIM T&T CO., LTD.

회사소개
회사소개
Since its inception in 1982, SungRhim T&T is renowned for having the most advanced cutting-edge technology of anti-vibratio rubber for automotive products. With the belief that the growth of employee and company will fulfill customer satisfaction, SungRhim T&T has developed cutting edge technologies and manufactured high-quality products as a pioneer in the global market. Based on amassed technologies and experience since its inception, SungRhim T&T established a research institute in 2005 and the institute has engaged in various research and development projects to create the designing system best optimized for rubber products and to provide the best products to customers.
업태 및 제품구분
업태 및 제품구분
업태
승용차(OEM(공급단계: 예 Tier-1, Tier-2))
관련차종
완성차, 일반 및 재제조부품
제품구분
제조
기본정보
기본정보
설립년도

1982

종업원수

70

R&D 직원수

6
전년도 매출액(원)

₩ 16,000,000,000

전년도 수출액(US$)

US$ 300,000

특허 및 인증서

IATF 16949 ISO 14001
해외지점

해외 생산공장 : -
해외 사무소 : USA (Seattle)

주요고객비중 국내 ( 95% )

DTR (50%) DAEWON(15%)

주요고객비중 해외 ( 5% )

-
제품세부정보
제품세부정보
Suspension System
Rubber Bush which connects the axle and the frame, absorbs the vibration and shock from the road.
Powertrain Mount System
Engine Mount which reduces the noise, vobration and shock while driving.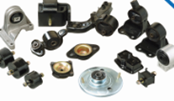 Dynamic Seat Damper
Dynamic seat damper is a device that reduces the vibration especially, located inside of the car seats, it is a car seat damper that reduces the vibration transferred to all the car seats.