(주)모야인터내셔널

MOYA INTERNATIONAL CO., LTD.

회사소개
회사소개
MOYA INTERNATIONAL is an OEM manufacturer of painted blow molding products of the highest quality. Products include REAR SPOILERS, BUMPER GUARDS, Running Boards.
The Business started under the name of MOYA Plastics in 1987. The name was changed to MOYA INTERNATIONAL to reflect the international customer base we now supply. As OEM Manufacturer, MOYA INTERNATIONAL has supplied blow-molded Automotive Rear spoilers, Running Boards and Bumper guards to customers like Toyota, GM, Mitsubishi, Honda, Holden Special Vehicle, Ford Performance Vehicle and many additional customers as an OEM.
One of biggest advantages is MOYA has Wide experienced Engineers, Long Experience for Development & Manufacture of OEM blow molding parts. Moya has its own production facility in Korea. All Blow molded parts are produced on our OEM production lines.
업태 및 제품구분
업태 및 제품구분
업태
제조, 유통
관련차종
승용차, 상용차, 미래차(전기/수소/자율주행등)
제품구분
일반 및 재제조부품, 액세서리
기본정보
기본정보
설립년도

1987

종업원수

7

R&D 직원수

4
전년도 매출액(원)

₩ 0

전년도 수출액(US$)

US$ 0

특허 및 인증서

ISO 9001
해외지점

해외 생산공장 :
해외 사무소 :

주요고객비중 국내 ( 10% )

0

주요고객비중 해외 ( 90% )
제품세부정보
제품세부정보
Automotive Rear Spoiler
When car drive high speed, Spoiler make down force on the trunk lid, increase vehicle running stability. Basically, improve design and increase running stability, most of all, Spoiler make to overcome its design limitations, it can make beautiful design, Now, Spoiler has installed 80% on SUV vehicle, 20% on Sedan and 50% on hatchback style cars.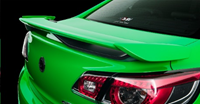 AUTOMOTIVE RUNNING BOARD
Side step has installed on the side of Body, it can improve the convenience enlargement when passenger get out of car, increase its design.
Most of SUV vehicle has its own side step as OEM or Aftersales parts.

AUTOMOTIVE BUMPER GUARD
By installed in front of car, it can improve design of Car and decrease Body damage at accident.