(주)에이엠특장

AM SPECIAL VEHICLE Co., Ltd

회사소개
회사소개
Since AMSV CO., LTD has established in 1999, based on constant research and development and accumulated technical skills, we have being recognized the high technology and best quality in the same field of business as a professional manufacturer of environment-related cleaning vehicles at present.
Korean Garbage Truck has secured a separate boarding space inside of the cabin and it made the low-floor style that sanitary worker can get on and get off rapidly and possible to work safely from external hazard factors.
In accordance with the trend of low carbon&eco-friendly vehicles, the 1 ton electric conversion truck is being developed and processing certification to get it. The electric Road Sweeper is currently under development and we are preparing envirionmental cleaning vehicles for the next generation.
업태 및 제품구분
업태 및 제품구분
업태
제조(OEM(공급단계: 예 Tier-1, Tier-2))
관련차종
상용차, 미래차(전기/수소/자율주행등)
제품구분
완성차
기본정보
기본정보
설립년도

1999

종업원수

66

R&D 직원수

13
전년도 매출액(원)

₩ 24,600,000,000

전년도 수출액(US$)

US$ 0

특허 및 인증서

9001:2015 / KSQ 9001:2015
해외지점

해외 생산공장 : -
해외 사무소 : -

주요고객비중 국내 ( 100% )

-

주요고객비중 해외 ( 0% )

-
제품세부정보
제품세부정보
EV Road Sweeper
This is electric motor-driven road swepr that is operatied by inhaling dust and garbage on the road, park, etc. It enables eco-friendly road cleaning without smoke.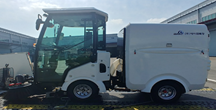 1 ton Electric Conversion Truck
This is 1 ton electric conversion truck which is modified the diesel engine of Bongo Ⅲ. It is suitable for eco-friendly low carbon market.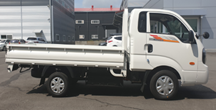 Korean Garbage Truck
This is Korean Garbage Truck. It manufactured low-floor style to secure a separate boarding space inside the cabin for the safe operation of sanitary workers and to enable to get it, get off quickly.