회사소개
회사소개
* For Hyundai Motor Co.´s Grand Starex camping car, the Uni-Camp´s Univan RT model is the most price-competitive one for the Grand Starex-based campus van currently on the market, compared to the sales price of nearly 63 million won including packages.
* The results from the behavior analysis of the campus are reflected in the Univan RT model. It ruled out kitchen facilities with less frequent use, and can instead be used as a bed by using second row bench-type sheets and link panels. Two adult males, two adults and one child are fully available
* Coupling the first row seats with the second row seats allows for comfortable dining, play, work and relaxation. A removable table is provided between columns 1 and 2 for use in accordance with the application.
업태 및 제품구분
업태 및 제품구분
업태
제조(에프터마켓)
관련차종
승용차
제품구분
완성차, 기타
기본정보
기본정보
설립년도

2016

종업원수

8

R&D 직원수

0
전년도 매출액(원)

₩ 1,145,000,000

전년도 수출액(US$)

US$ 0

특허 및 인증서

ISO/TS 16949 ISO 14001
해외지점

해외 생산공장 : -
해외 사무소 : -

주요고객비중 국내 ( 100% )

-

주요고객비중 해외 ( 0% )

-
제품세부정보
제품세부정보
UNIVAN RT
´- Secure sleeping space by opening and closing the roof of the vehicle
-
Secure sleeping space through seat rotation, folding, and reclining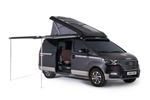 UNIVAN X
´- Secure sleeping space by opening and closing the roof of the vehicle
Built-in multimedia system such as TV and sound system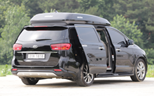 UNIVAN P
´- Secure sleeping space through seat rotation, folding, and reclining
Secured storage space with indoor sliding twin storage box