회사소개
회사소개
DaeYong has produced high-pressure Al die-casting for automotive parts and has had outstanding growth with strict quality control and excellent engineering since the establishment in 1983. The company´s sales are export-oriented with 90% from the automotive industry alone. It is IATF16949, ISO14000, and ISO45001 certified. Major production parts are Valve body, Cam Carrier, Cam-Caps, Inverter Case for EV, throttle body, and steering parts.
업태 및 제품구분
업태 및 제품구분
업태
제조(OEM(공급단계: 예 Tier-1, Tier-2),에프터마켓), 무역(OEM(공급단계: 예 Tier-1, Tier-2),에프터마켓)
관련차종
승용차, 상용차, 미래차(전기/수소/자율주행등)
제품구분
완성차, 일반 및 재제조부품
기본정보
기본정보
설립년도

1983

종업원수

634

R&D 직원수

38
전년도 매출액(원)

₩ 107,000,000,000

전년도 수출액(US$)

US$ 97,000,000,000

특허 및 인증서

IATF 16949 ISO 14001/ ISO 45001
해외지점

해외 생산공장 : -
해외 사무소 : Detroit USA

주요고객비중 국내 ( 0% )

-

주요고객비중 해외 ( 100% )

GM, NSK, Delphi, Hitachi, Eaton, Allison
제품세부정보
제품세부정보
Cam Carrier
Process: Super high speed high pressure die casting, Machining, Sub Assembly
Customer requirement : Cleanliness spec- particle size, Leak requirement, thin-wall, light weight.
* Supply to directly to : Delphi Technologies, Hitachi Automotive

Valve Body
Process: Super High speed die-casting, Machining
Quality Score: Valve Body casting: 0 PPM (based on Y2015~2018)
Customer requirement : Inner Porosity, Particle, Leak, Anodizing, tight machining requirement or Customer machining
* Supply to directly to : GM, BorgWarner, Eaton, Allison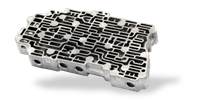 Inverter Cover for EV
Process: Super high speed die-casting, Machining, Sub Assembly
Customer requirement : Bolting, Particle, Leak, Mechanical property
* Supply to directly to : GM