메탈피트코리아(주)

Metal Fit Korea Co., Ltd.

회사소개
회사소개
Our company was founded in 1987 and based on continuous R&D and environment-friendly management, Specialised in producing the highest quality automotive brake noise abatement shims and automotive engine/compressur gaskets. Based on the technology and know-how accumulated over the past 30 years, we continuously invest and conduct research to provide the best quality products. We are proud to have contributed to the development of the auto parts industry. In addition, we are expanding our market not only in the automobile industry but also in the consumer electronics field and our exports are steadily increasing. Wolverine Korea, Inc. has implemented creative technological innovation, high-quality first-priority policy, and a response system to natural disasters. We are trying to increase the company´s trust and continue our efforts to become a leading company in the auto parts industry, so we ask for your support and support.
업태 및 제품구분
업태 및 제품구분
업태
승용차(OEM(공급단계: 예 Tier-1, Tier-2))
관련차종
완성차
제품구분
제조
기본정보
기본정보
설립년도

2006

종업원수

63

R&D 직원수

10
전년도 매출액(원)

₩ 14,000,000,000

전년도 수출액(US$)

US$ 0

특허 및 인증서

IATF 16949 ISO 14001
해외지점

해외 생산공장 : -
해외 사무소 : -

주요고객비중 국내 ( 100% )

Hyundai Motors, Kia Motors

주요고객비중 해외 ( 0% )

-
제품세부정보
제품세부정보
GASKET-CYLINDER HEAD
This gasket is locating between the Cylinder head and Cylinder block. Its main function is to seal the Combusting gas, coolant and engine oil.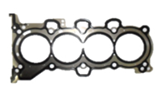 GASKET FOR OTHER
This gasket is locating between the WCC and EGR valve position.
Its main function is to seal the exhaust gas.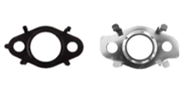 SEPARATE PLATE
Gasket for transmission