회사소개
회사소개
Wato Korea Corp. is a leading manufacturer and exporter, we have been running a business in the field of Korean automotive parts since 1998.
We produce Alternators/ Starter Motors/ Wheel-Bearing parts for All Korean cars and Japanese cars. Furthermore, we deal with all brands (Genuine, OEM brands, Rebuild) for automotive.
업태 및 제품구분
업태 및 제품구분
업태
제조(OEM(공급단계: 예 Tier-1, Tier-2),에프터마켓), 무역(OEM(공급단계: 예 Tier-1, Tier-2),에프터마켓)
관련차종
승용차, 상용차
제품구분
완성차, 일반 및 재제조부품
기본정보
기본정보
설립년도

1998

종업원수

20

R&D 직원수

3
전년도 매출액(원)

₩ 6,200,000,000

전년도 수출액(US$)

US$ 4,400,000,000

특허 및 인증서

ISO 9001 ISO 14001
해외지점

해외 생산공장 : -
해외 사무소 : -

주요고객비중 국내 ( 0% )

0

주요고객비중 해외 ( 100% )
제품세부정보
제품세부정보
ALTERNATOR (GENERATOR) & STARTER MOTOR
Alternator is an electric generator to generate AC(Alternating Current) electric power. It supplies electric power to engine and can recharge a storage battery in the low speed engine.
Starter Motor is an electric motor to crank engine for engine starting.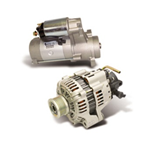 Electric Component Parts
? Voltage Regulator ? Rectifier ? Clutch Pulley
Voltage Regulator is an equipment that designs to maintain a constant voltage level automatically regardless
of input voltage.
? Solenoid Switch ? Drive Gear ? Brush Holder
Solenoid Switch is a switch that interrupts the power supply when the motor is rotated.
And it engages the pinion gear with the flywheel ring gear in the car.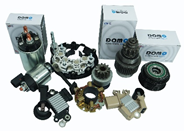 Wheel-hub Bearing
Wheel Bearing is assembled between the front hub and the knuckle (connected by a spline to the drive shaft) to transmit the rotation and steering of the hub.
It is also subjected to lateral pressure when steering, usually with tapered roller bearings.
It also delivers road surface impact to the suspension.